I know it is getting late for back to school, but the Muegge house is just gearing up! Reagan doesn't go back to school until after Labor Day so we have a ways to go yet. I've only shopped for jeans (when Old Navy had their kids jeans for $10) and that's about it! Hopefully this week I'll get to that!! So, I may be bringing you these ideas a little late... but better late than never, right?! ;)
Today I'm going to feature some fabulous parties first and then give you some great ideas for your teachers. Later this week I'm going to do a feature on cute things for your children from Back to School organization ideas to lunch note ideas and more!
We'll start with this great Back to School soiree that Kim, over at the amazing
TomKat Studio
, styled for Pottery Barn Kids *do you hear the angels singing?!*
Kim used her own printables and created this gorgeous Back to School themed party for a Pottry Barn Kids event. I LOVE her printables, for sale
here
, and all the apples. For me, teacher=apple... just a connection that is always in my mind :0)
Here is another very colorfull and fun filled party from
Love the Day
Lindi over at Love the Day featured this great party by her friend Jane. It is so cute, colorful and fun - and the printable are on sale
here
. I love all the bright colors and that she provided food for the moms and the kids. Great party!
And this party from
Dukes and Duchesses
is spot on! Adorable for kiddos just starting school - and full of great details!
Randi from
Dukes and Duchesses
created this fab party for her little ones playgroup, which had 5 kiddos starting school! She made this party cute and financially reasonable - using supplies from the dollar store and every day things to make a big impact. I LOVE the looseleaf paper garland and the writing line water bottle labels. She used printables from The Girls at
Eighteen 25
, found
here
(did I mention they are FREE?!), and had an adorable donut eating activity.
Need some ideas for your new teacher(s)?
Have you seen these unbelievably cute crayon monograms?!
see more about this project here
see the full project here
How presh is this handmade set of notecards for your child's teacher?? Michele with
I Stamped That
offers the complete kit to make this adorable gift for $11 + shipping and handling. Amazing deal!! If you have the items at home but need some instructions, she also offers a tutorial for $3.95 + handling fees. Ca-yute!
Now this you can do for the whole school, not just one teacher!! You can make these for the nurse, the principal, the registrar... guaranteed brownie points! ;)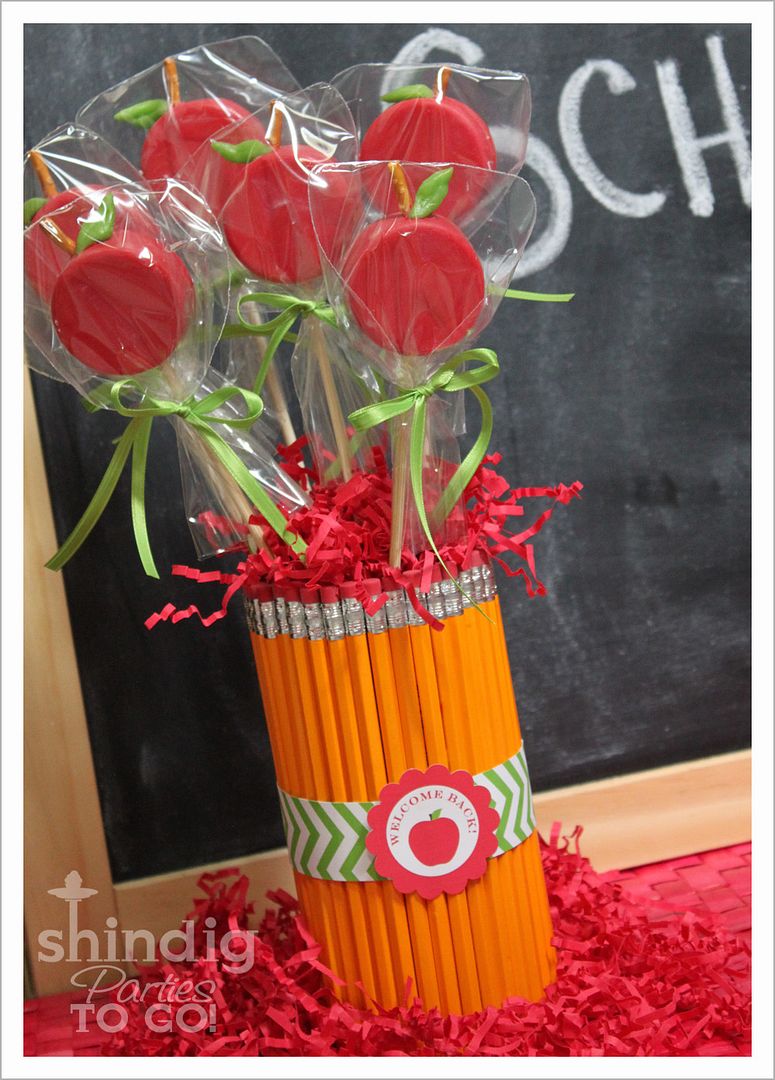 The fabulous Amanda with
Shindig Parties to Go
(whom I often feature because I LOVE her!) created a wonderful tutorial for making these great Oreo pops. The leaves are made from Air Heads! And how adorable is that pencil covered vase?! Um yeah, I'm swooning.
Another great crayon project.... I made one of these myself!
I am IN LOVE with these... absolutely in love! I just made one myself, but I didn't make a tutorial for it :/ I should have! I really love this one from Evonne of
The Ballard Bunch
. The red gingham fabric and the flowers are really perfect for this project. Although, if she actually leaves this on her door she must not live anywhere near me... this Central Texas heat is over 100­ degrees each and every day. Can we say, melted?!
So, stay tuned for more great Back to School ideas later this week - I have great things coming your way!!!