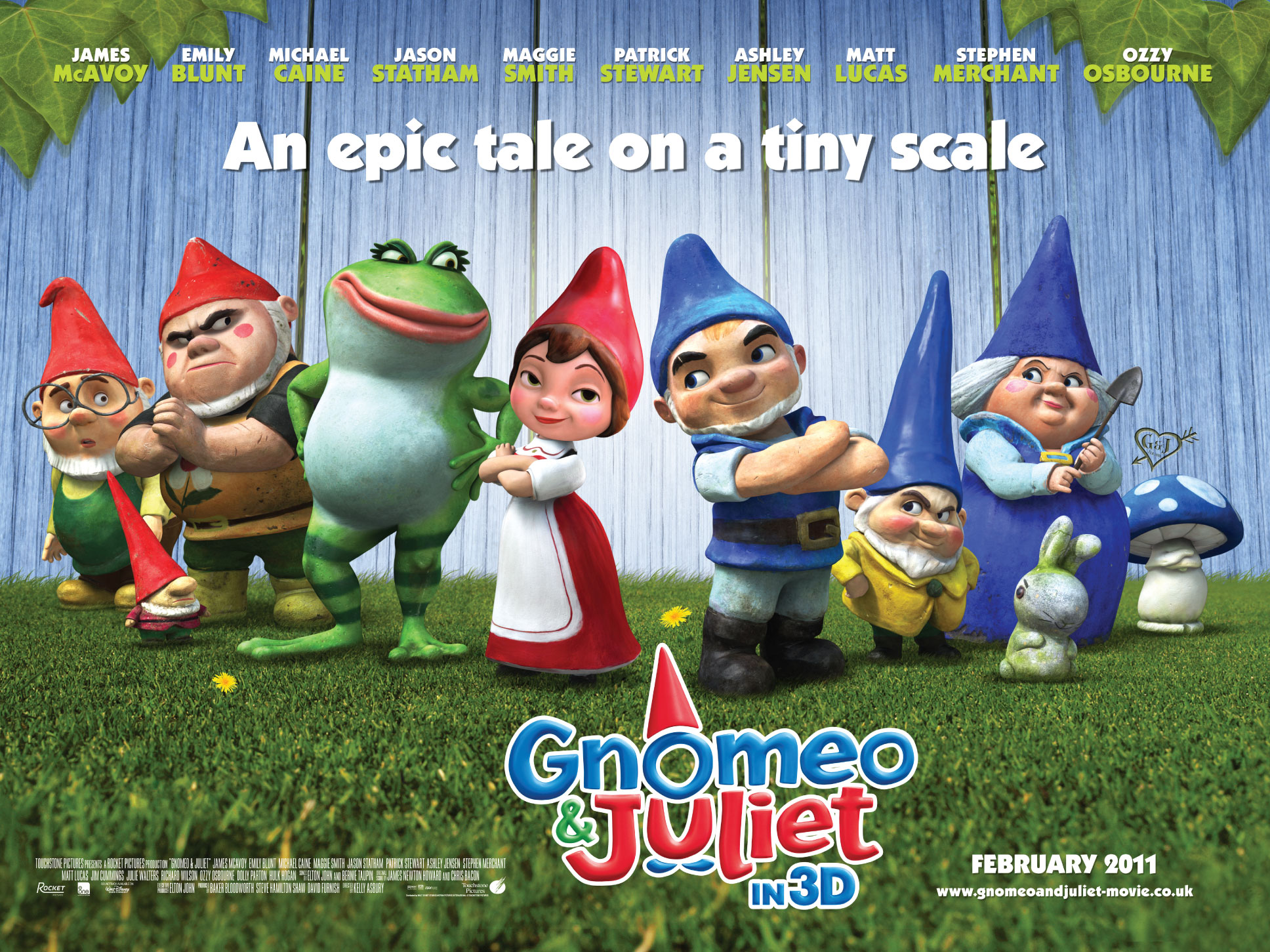 OK, can we say... ca-yute!! OMGosh... it was adorable! So funny, so hip and totally written on an adult level but completely appropriate for children of any age. My daughter LOVED it, my husband LOVED it and I, you guessed it... LOVED it!! I knew there was some connection to the film and Elton John, but I didn't realize he produced it. And all the songs were Elton originals - some you recognize and some new.
And, let's face it - who doesn't love a gnome?! Well, actually I know some people who don't, but for the rest of us, this is a wonderful family film that I know my family will buy the instant it is on DVD. We've never had a gnome in our gardens, but maybe we will now!
This movie was so well written - think the humor (especially adult) of Shrek, without the inappropriate language. There were some lines that I know were just way above Reagan's head, especially in their true context but she laughed and laughed - just as we laughed and laughed - so the line was funny on every level.
I must say - we did miss probably the first 5 minutes of the film - wreck on I35 = late to movie we were already running a tad bit behind for. We got in the theater about 12 minutes after the start time, I figured there'd be 15 minutes of trailers and we'd miss nothing, but we missed enough to not even see the opening credits.
The movie follows the plight of the red gnome family the Redbricks (the Capulets, for all intents and purposes) and the blue gnome family the Blueberrys (as you can guess, the Montagues). As I said, we missed the first few minutes, but Juliet is the daughter of Lord Redbrick who has an eternal feud with Lady Blueberry, Gnomeo's mother. The two meet during an escape from their boring lives and the doomed romance begins. Both are supported by their loving besties, Nanette the frog for Juliet and Shroom the mushroom dog for Gnomeo. They begin a secret love affair that does end in disaster (although not really scary or too violent for little eyes) but not a deadly disaster. Lovely ending with ABSOLUTELY GREAT music all throughout.
If you're in need of a family outing, a cute date with the hubs, or even just a silly pick-me-up - this is the movie for you.
Notable Cast:
Gnomeo - James McAvoy (of Atonement fame)
Juliet - Emily Blunt (of all kinds of fame!)
Lord Redbrick - Michael Caine (cue Alfred, the Batman butler)
Lady Blueberry - Maggie Smith (more Ya-Ya than Harry Potter)
Oh, and let me not forget...
Fawn the deer - Ozzy!!
Terrafirminator V.O. - Hulk Hogan
Great casting!! There are many other greats who gave their voices to this movie, but these stuck out for me.
So, what are you waiting for?! Go get your movie on!!
"Shroom, let's go kick some grass!" -Gnomeo